Specialists In Beautiful Kitchen Resprays
Kitchens are the heart of a home. We never rush anything when it comes to renewing their look and feel. Our team of kitchen spraying experts who have 25 plus years of spraying experience provide amazing, long-lasting kitchen coatings and kitchen resprays across the UK.
We offer a 10 year guarantee on fading, discoloration, cracking and peeling. This is no quick fix! We have a bespoke spray booth where we spray for manufacturers all over the UK. Our team are trained to spray to the highest of standards, using the best equipment and the end result will be like you have had a brand new kitchen fitted in the colour we spray.
Spray painting is usually 80% cheaper than replacing your kitchen and 100% less hassle. Our solution is also much more durable than other options including vinyl wrapping, which can bubble and peel almost instantly.
Tell us a little bit more about your kitchen respray project and one
of our spray team will be in touch to share ideas and provide a quotation
We've been reviewed and trusted by hundreds of happy customers but don't just take our word for it
Kitchen Spraying Visualiser
Note that the colours reproduced here are offered as a guide only. It is possible that the finished product may be slightly different from those illustrated on this page. Please get in touch to see the actual uPVC spray paint colour chart.
The colours reproduced here are offered as guide only. It is possible that the finished product may be slightly different from those illustrated on this page.
A fabulous coating can make spending time in your kitchen even more of a pleasure. Here's why We Spray deliver the best kitchen spray coatings…
We don't cut corners when it comes to preparation as this is key to the finish. Since we are giving you a 10 year guarantee, we go the extra mile to ensure that you have no need to ever exercise this. We scotch and clean to perfection so the coating adheres correctly.
We offer three core choices for kitchen coatings. All options include plinths, cornices, pelmets, external shelving, wine racks, side and end panels and carcass fronts.
Option 1 – Fronts of the cupboards and drawers.
Option 2 – Fronts and backs of the cupboards and drawers.
Option 3 – Fronts and backs of the cupboards and drawers plus the internal carcasses.
After spraying more than 2500 kitchens so far, we always leave a factory-level finish!
A Family Approach To Kitchen Spraying
We're a family business and that means we care deeply about the needs of your home or commercial premises. We want your kitchen to be a work of art. On every assignment, we offer a free consultation and perform a visit to thoroughly assess requirements before we get started.
Thanks to our advanced, layered coating techniques and market leading coating paint, we guarantee a perfect finish for at least 10 years. We Spray are meticulous, which is why we never rush a spray coating – the results are fast-acting without sacrificing quality along the way.
How do we spray a kitchen?
Intro
Before our team attend to spray a job sheet is produced, outlining how we will handle the kitchen in the least disruptive and effective manner for both us and you, the customer. We'll evaluate the layout, the available area, the material we'll be spraying, and if it would be better to execute the entire kitchen spray on site or just the first half in our custom spray booth. Every kitchen has a unique plan, and after spraying over 2500 kitchens, the planning gets more effective every time.
We will always send a confirmation email logging all detail that has been discussed. Typically, this entails emptying every drawer and cabinet in the kitchen. Additional advisories may occasionally apply; these will always be noted on the agreement. The sprayers will then be able to see these instructions, ensuring that they are completely aware of the entire process.
Step 1
The first thing to do when the team gets there is remove all of the kitchen cabinets, drawers, and hinges (if spraying the entire inside carcasses). To ensure that nothing is missed when the kitchen is put back together, each removable component has a number.
We bring specialised racking to keep all the doors neatly grouped together.
If the kitchen is difficult to manouver in we occasionally remove the doors and bring them back to our spray booth.  Every handle has been taken off and is numbered.
Step 2
Preparation then begins which is the longest task that the team will complete. They will create meticulous lines and ensure that there is no overspray anywhere.
Anti static, dust attracting, plastic sheeting will cover any large appliances, sofas etc. Blue sticky film covers the floor. Brown paper is used to ensure all work surfaces, tiles, splashbacks, built in appliances and cooker hoods are covered and masking tape to ensure that all the lines are straight.
Step 3
All surfaces that require spraying must be keyed with scotch pad which allows the coating to bond into the surface. This is not the same as sanding it leaves less hazing and scratching than sand paper.
We use panel wipe to clean the surface. This is a superb cleaner which ensures the final removal of surface contamination which could interfere with the bond of the paint.  We do ask the customer to clean any stubborn grease and grime prior to our arrival.
The preparation process usually takes around 50% of the time we have allocated to complete the kitchen spray. The above process must be completed correctly to provide the customer with a 10 year guarantee on fading, cracking and peeling.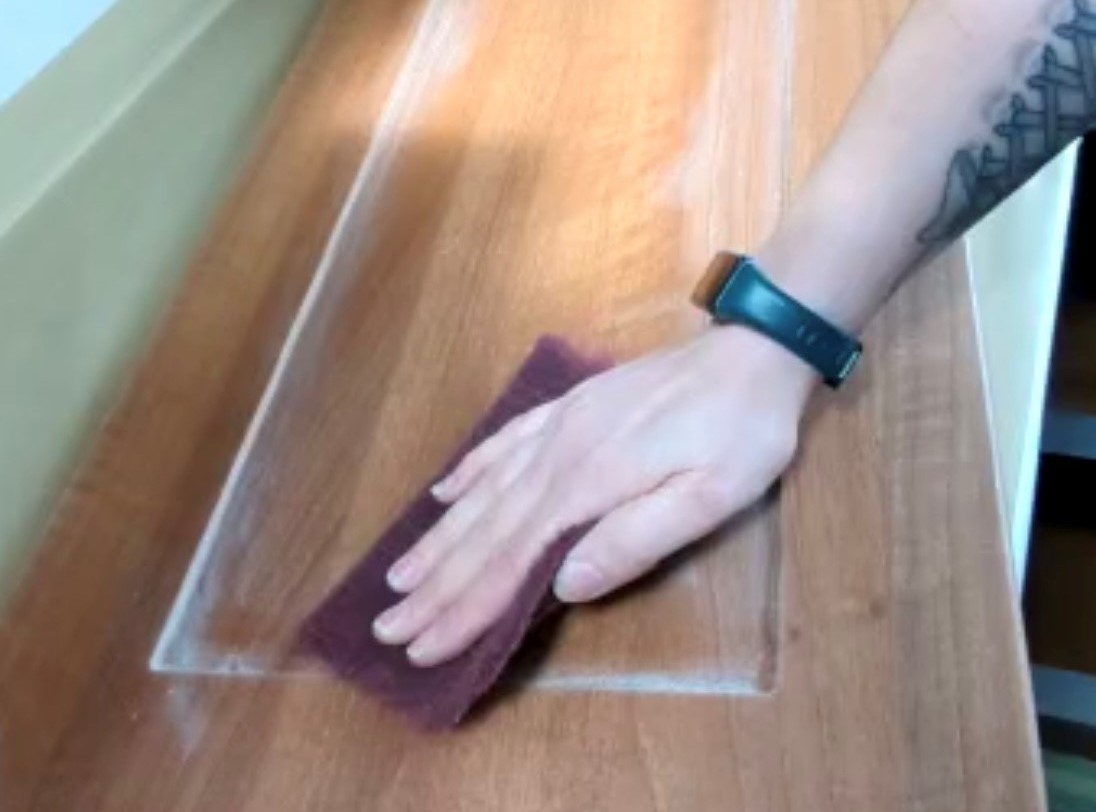 Step 4
Once all preparation is complete the spraying can commence. If you are opting for option 1 then we will start with the carcass fronts, if option 2 is your choice then we will start with the backs of the doors. If you have chosen option 3 which is the full internal of the carcass then this is where we will start.
A dust coat is applied first which will show us if there are any areas that require a further key or clean. The second and third coat will then grab onto the previous coats producing the flawless finish.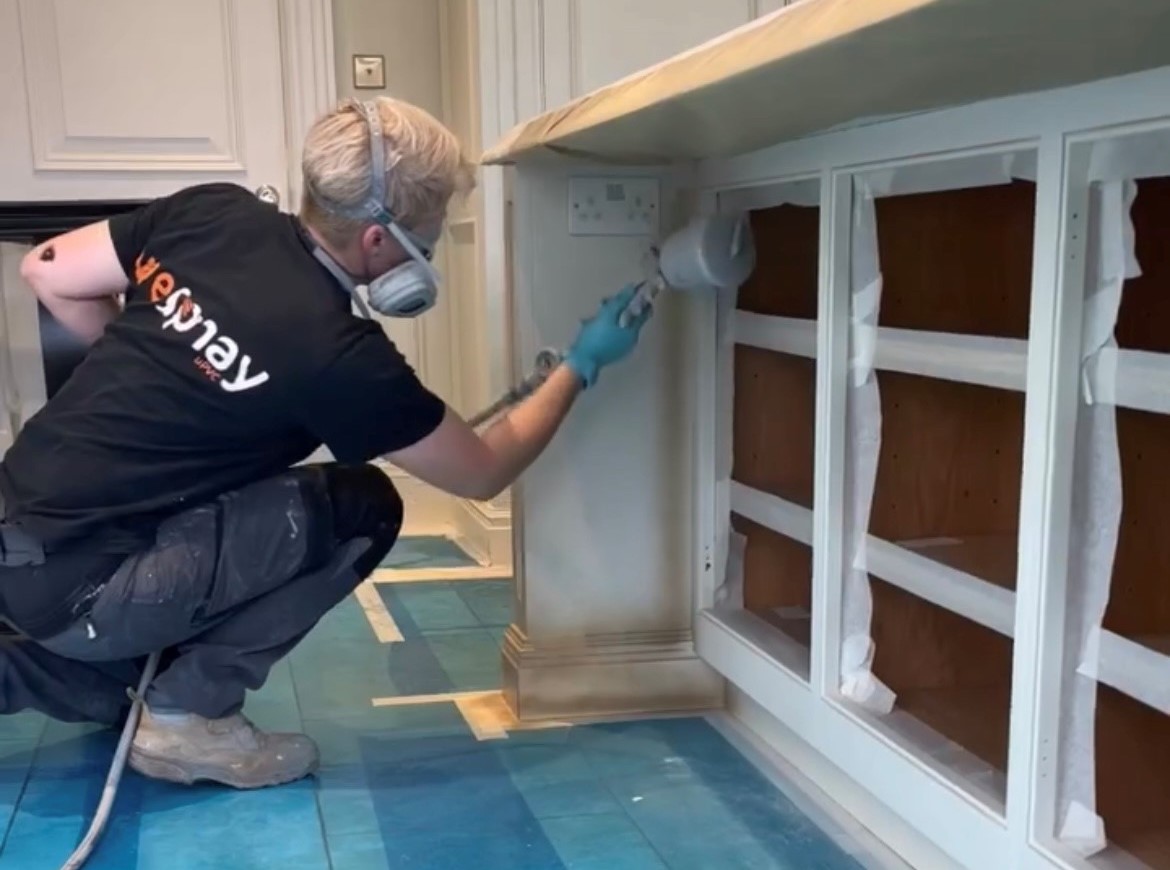 Step 5
Once all spraying is completed we will then carefully remove all the preparation, fill plenty of bin bags with any rubbish and refit everything that has been taken off.


The result is a factory finish, bespoke kitchen, completed in a day or two for a fraction of the cost of buying new!
See what we have to spray about interiors, exteriors and more. Here's where we house our freshest ideas for your home.
Contents Professional Service Clear Communication Competitive Prices Extensive Preparation Spray Quality No Mess Repeat Customers Are you thinking of having …
Contents Which High Gloss Furniture can be Painted? How are High Gloss Wardrobes Sprayed? Why Paint High Gloss Furniture? Can …